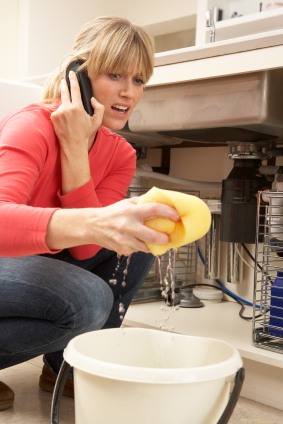 It's a situation no homeowner wants to find themselves facing. It's the middle of the night. You're fast asleep and you are awakened by rushing water. Maybe it's the toilet overflowing. Maybe a pipe burst in the wall. No matter the specifics, all you know is that you need emergency plumbing repair service and it's after hours. What do you do?
At Burbank Super Plumbers, we know a thing or two about emergencies. Residential plumbing is quite tough, but that doesn't mean that overtime something won't break. When it does break, it's never a convenient time. We also know that homeowners may panic when they're faced with an unexpected plumbing failure. Here are some things you can do when the unexpected happens.
Turn Off the Water
Do you know where the main shut-off valve is located in your home? If not, go look for it now. Knowing where this valve is can save you a lot of money because it will reduce the occurrence of flooding and water damage in the event that a pipe bursts.
Have a Go-to Emergency Plumber
A huge stressor is not knowing who to call at two o'clock in the morning. Having the number of a reliable emergency plumber in Burbank programmed into your phone will lower your anxiety. The best emergency plumbers don't charge excessive after-hour fees and can get to your home fast. At Burbank Super Plumbers, we offer the same great rates 24/7 and guarantee 90 minute response times.
Consider Preventive Maintenance Packages
A lot of problems with residential plumbing systems stem from clogged drains and leaky pipes. These are situations that can be caught early and taken care of for little out-of-pocket cost. For example, our preventive maintenance packages include drain cleaning and leak detection services. Spending a small amount on yearly plumbing maintenance can save you thousands in unexpected repairs.
Call your Burbank plumber today to learn more ways about handling emergency plumbing repair service.